A cozy, laidback and friendly cheap hostel located in the heart of Sendai, Miyagi. Only 10 minutes walk from Sendai station. You can easily access to all the tourist attractions, not just in Miyagi, but in all the Tohoku region like Matsushima, Yamadera, Hiraizumi, Zao, Naruko, Ishinomaki, Tashiro/Aji island and more.
---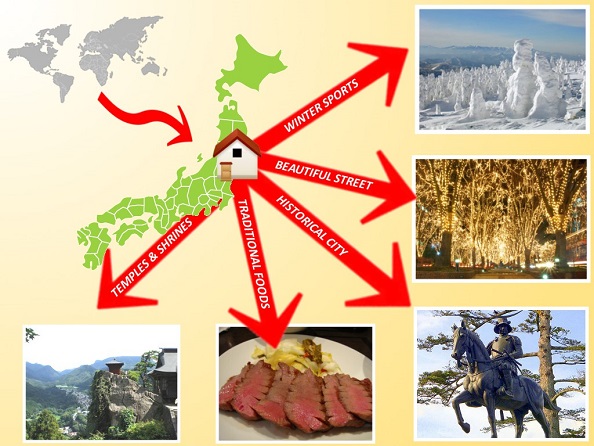 Room and Rates

We have a private room, and mixed-dorms.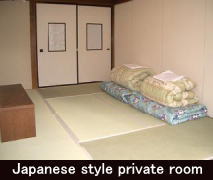 Private room 6,500 yen / night
Mixed-dorms 2,500 yen / night
Free bed linens
Free Japanese style futon
Free bath towels (1 for each)
Free small locker
Free luggage storage
Free Wi-Fi internet access
An outlet and a light for each bed
No curfew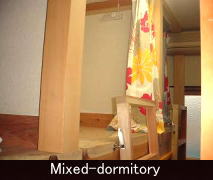 Please note: we take cash only
Reservation

Reception hours: 6:00am to 10:00pm
Please leave us the following information:
1.name and number of guests
2.check-in day and check-out day
3.room type
4.phone number and address
5.the time you arrive
@(let us know if you wish to check-in late or leave your luggage in the early morning)
*We accept bookings no further than 4 weeks in advance.
Check-in time: 3:00pm~
*We can keep your luggage if you arrive earlier than the check-in time.
Check-out time: ~10:00am
Map and Directions

Only 10minutes walk from Sendai station, near Kakyoin junction.
We have no sign, and it might not be easy to find the way to our hostel.
We strongly recommend to print the map below so you will not get lost.
You can also contact the tourist information office located on the 2nd floor of Sendai station.
They can provide you a detailed map of the city of Sendai and direction details to our hostel.
@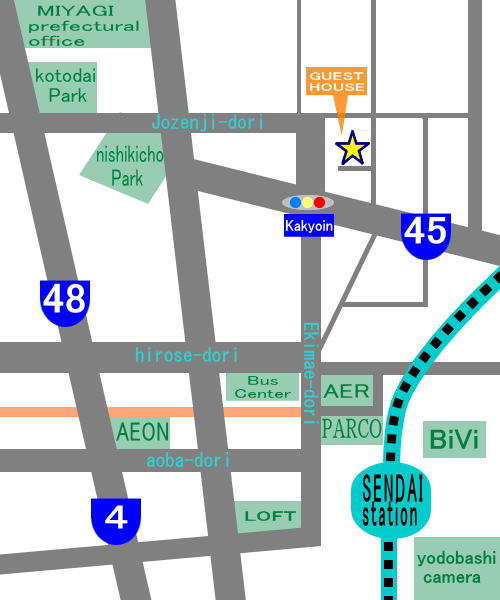 @
@@@@@@@@@@@@@@@@@
œdetailsœ
@@ @@@@Click on the map below to enlarge it.
@@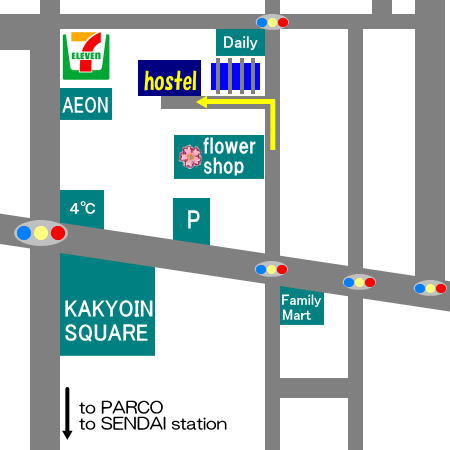 @
Facilities
-Free Wi-Fi Internet access in the whole building
-Free body wash, face wash, and shampoo
-Free coffee and tea
-Free to use a common computer
-A commom room (with Kotatsu-Japanese heater-in winter time)
-Smoke-free (smoking area available outside the house)
-Fully equipped self catering kitchen & shower rooms 24 hours available
-A fridge
-A Washing mashine available (100yen each time)
*No clothes dryer (There is a launderette with dryers just 5 minutes away)
FAQ

Q: Do you have a parking lot ?
A: No, we do not, but we have some space for motorcycles and bikes.
@There are a couple of parking lots nearby if you bring your car.
Q: Are there any supermarkets or restaurants around?
A: Yes, there are many different types of restaurants, convenience stores,
@@and supermarkets whithin walking distance. Some of them are open for 24 hours.
Q: Can I stay with kids?
A: Yes, but please note that the price is the same for both adults and kids.
Q: Does the private room have its own toilet and shower?
A: No, it does not. We have 2 common toilets and showers.
---